The rise of urban tech reflects the growing role of cities in the global economy.
Public bike shares were supposed to initiate a global cycling revolution, providing everyone the opportunity to ride a bike in conjunction with cities encouraging people to use bicycles. Some cities are even thinking about paying people to opt for a bicycle as well as companies paying their employees to use the bike.
Dockless bikes (those controlled via GPS and not confined to a physical docking area) are hotter than ever. However, there's a price tag with it. Theft and vandalism of the bikes, which rent for as little as $1 per ride, have been problematic, especially in the U.S. and other major countries where dockless operations have grown exponentially in the last year. Criticism is growing and the polite refrain is they tend to block sidewalks and driveways as the bikes are generally dumped anywhere in the city and people are getting a bit fed up.
Another problem has been the high maintenance costs. According to SoftWheel, an Israel wheel innovator, each municipal bike share bike undergoes repairs as often as twice a month. These repairs, together with the personnel, transportation and material costs, an average bike replacement cost can exceed €1,000 per bike, resulting in exorbitant maintenance sums.
It turns out that wheel-related maintenance accounts for between 50% to 90% of overall maintenance, and that is why many operators are turning to maintenance-related solutions that begin at the wheel. What do we mean? Rolling out new bikes with smaller wheels, making components cheaper and the bikes lighter and easier to transport.
Bike operators are also considering equipping their bike fleets with airless tires. While this is still in the early stages, and has been a less popular option as it reduces rider comfort, airless tires eliminate the need for costly puncture repairs, providing significant maintenance benefits in the long run. The only downside is that, although surprisingly light, they're still much heavier than rubber and air.
While we patiently wait for bikeshare companies to continue to innovate, in the meantime suffering a punctured tire is one of the most frustrating things that can happen when being on a bike. Whether it is a city bike or your own bike, and especially if the flat tire or puncture happens when the bike repair near me shop (typically 1 to 2 km away) is not open. Imagine, it's Monday morning, on your way to work and while there are all kinds of pumps, puncture fix kits, You Tube videos one can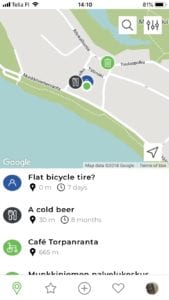 utilize and tap into, you're in your high heels on a city bike and late for an important business meeting. The last thing you want to do is get down and dirty fixing a bike with oil on your hands and clothes.
Or even more fun, you're a tourist using the city's bikeshare bike and hit a flat. How will you find a shop with bike repair near me – google it in the local language? That's a fun idea! How about going online to the city's website to find tire service near me? Good luck with that!
But fear not, help has arrived. The global, location-based app Geme.io is not only already pulling information surrounding bikeshares in all capital cities in the world via an API (one of the categories of Info Gemies), the app is a free allowing anybody to create a location-marker (e.g. a Social Geme about offering help with anything such as punctured tires or just lending a hand.  So, anybody can create a bike repair near me home shop and offer tire service near me. The idea came up when a biker passed by our cafe on a Monday morning at 7:30, with a flat tire, asking if we knew anybody nearby as the nearest bicycle shop was 5 km away and googling wasn't turning up any relevant hits.
The next step is to approach cycling associations and city marketing departments to market the Geme.io app so that frustrated city bikers and urban commuters can finally realize an easier life moving around communities and cities. Cities have become the basic platforms for global innovation and economic growth, supplanting the corporation as the fundamental organizing unit of the contemporary economy. But in this regard, cities remain inefficient. While they come up with ideas on how to make apps for easy payment into bus or tram payment schemes, for something as simple as a flat tire, the only solution right now is Geme.io.
A call out to any global city – contact us and use the app to plug your citizens into free assistance for bicyclists so one does not have to walk with a heavy bike in high-heels for kilometers but can find help anywhere in the world – but always nearby.