A change has been slowing simmering in local and regional governments worldwide. As it has become clearer that entrepreneurship can spur economies, resulting in larger, more robust tax bases and positive economic development, instead of lavishing tax incentives on large, existing companies, local and regional leaders have been encouraging new business development with these bright entrepreneurs and their novel ideas.
For most policymakers, during a recession and then the early years of the subsequent recovery, attention is frequently focused on the contribution of jobs an established company or a start- up entrepreneur can create. With high unemployment, when wages are stagnant and some large corporations reticent to invest, the answer to the question of where new jobs will come from is increasingly, "start-ups and entrepreneurs."
Start-up entrepreneurs don't set out to create jobs. That's not their mission, but job creation invariably occurs when the idea moves from an idea to a business and when the company starts to enjoy early success in the market and a repeatable strategy. This is the point when the company needs to add people to scale, and when hiring people makes business sense and becomes a strategy for success.
Beneath this economic logic is another layer, one that is important and often determines when the company will succeed. And that is the vibrant start-up community and networks around it. It is here where ideas are exchanged and tested and people move across boundaries between employee, contractor, volunteer and advisor. Just as all politics is local, all economic growth is also local and that puts a tremendous pressure on cities, towns and regions to foster start-up communities.
Despite the romanticized life of a start-up entrepreneur, the central element of being one – creating and building a startup – remains very hard work that is often exhausting and lonely. Economic development professionals and policymakers are accustomed to counting jobs created, businesses started, companies retained, tax incentives dispensed but not the opportunity cost of start-up efforts.
The positive impact of start-up businesses on a local economy is powerful, and it is important for the community, government, local universities and private individuals to support these efforts. For one, a start-up company that is successful is more likely to remain in its home community and care for it if it receives support through the initial, difficult years. Additional spin-off companies then may result, creating a multiplier effect which is what the entire community desires.
How can location-based apps with a community map and information sharing support this trend? First, an app can provide tools for the supporters of the start-up business. In a location app, such as Geme.io, one can find relevant information surrounding the start-up, co-working spaces or bikes for a share if in a new location or new city. University students can use the location-based Geme.io app to create location markers and share their current projects with e.g. surrounding businesses to join in and support with knowledge and possibly funding. Municipalities can use it to show information on the virtual map which is typically buried in web sites and difficult to find in search engines e.g. public toilets, bike for share, events nearby, trash bins, etc. By the way, who goes to a website to find such information today? The locals and weekend entrepreneurs can use it to sell their homegrown or made products, have garage sales and sell stuff they do not need, or give free stuff away, or offer their services which local businesses can do as well.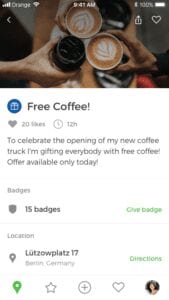 All the above contribute to vibrant entrepreneurial communities which produce more capable entrepreneurs who in turn produce increased wealth and stability for local economies. But for most location-based apps, the support of a city administration is critical and that can be achieved in various ways. For instance, abolishing bureaucracy to release the burden for entrepreneurs (e.g. tax relief during the first years, de-unionization to make it an easy way to let go of people as the start-up grows and may need other skill sets).
Also, city administrations should support location-based apps as they can help provide information to newcomers and tourists and provide them an enjoyable experience so they come back and promote a city, instead of trying to make technology themselves with few tech resources and in a field where their expertise falls short.
Let the Geme.io app become your partner and help you to meet your goal, city administration, wherever you are :).