The secret to building a vibrant business is to go where the clients are.
For Rock & Hammer Tax Service, a New York accounting firm, this means packing up a truck every day, cranking up the music and heading toward lucrative and busy locations nearby in New York City to offer tax advice on wheels. Sounds thrilling, right! Well it is, and the business has been so lucrative that the company needed to buy more trucks to be able to serve street clients especially when weather is good, and tax filing season is upon us. Maybe not every accountant is willing to put on some jeans and sit in a truck to offer services, but these guys and gals certainly are.
Shifting to food, the food truck industry generates $2 billion plus in revenue in cities across the U.S. The boom has been pronounced, growing by 300% over the last three years (source: Food truck nation). Food trucks are even outpacing overall commercial foodservice, such as restaurants, at a growth of 5.4 percent versus 4.3 percent. Many restaurants, however, are jumping in on the mobile trend, establishing their own satellite food truck restaurants with limited, more casual or fun menu items.
So why is the food truck industry thriving? First, they're a more affordable option for first-time and startup entrepreneurs than brick-and-mortar restaurants. Plus, they get to go directly to the consumers and find their target market on the streets rather than waiting for consumers to come to them. Millennials are widely considered the "food truck generation" with 47 percent having eaten from a food truck at some point in their lives. Think young, hip urban eaters. (source: Big think)
Food trucks have also thrived in large part due to low barriers to entry and high consumer demand. Yet, these barriers do vary greatly from city to city. Unfortunately, in many communities regulatory burdens and inconsistent rules that govern how, when, and where food trucks can operate are threatening to stall the growth of this emerging industry.
Getting back to the client part (going where they are or finding a cheap way to get them to you), weekend-entrepreneurs, like food trucks, can also make an extra buck these days. For example, baked goods, which have grown in popularity over the last few years, enable entrepreneurs to sell cupcakes and similar items from home which has led in some cases to full-scale retail bakeries or even franchises. Mentoring, selling and buying online, mowing the lawn, sweeping the yard or selling any service that we know someone has a demand for is the trick. And the direct sales/marketing industry is a fast, affordable, and flexible way to get a business off the ground and running quick. But again, what are the obstacles? Not every weekend entrepreneur has a truck to tour around, park and promote one's services.
Our app, Geme.io, is a free geolocation application that can help anybody (a tax truck, food truck or a weekend entrepreneur without a truck) to create location markers and promote their services virtually. Yes, you read that right – FREE. The virtual community map ensures that any service is displayed and information sharing, and filtering is very easy.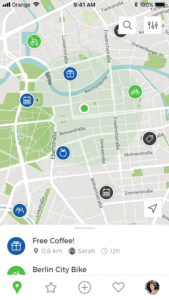 In many communities, regulatory burdens and inconsistent rules that govern how, when, and where new businesses can operate are threatening to stall the growth of this emerging industry. Another obstacle is parking – getting permits on where to park to display your items is a major issue. We are currently reaching out to major city administrations worldwide to use the Geme.io app to show the parking zones where it is allowed to park and to do business.
While the app is free to create location markers, the city will need to pay to show the parking zones as it requires app customization. But the fee is microscopic compared to the tax income and growth these cities can make on busy entrepreneurs plus making it easier for them to do business by minimizing the time needed to try and find this information in overcrowded city websites that are far from transparent and difficult to navigate.
Not only does Geme.io app enable job creation, growth, and tax revenue, but most important, it is an amazing information sharing app where both the consumer, the city administration and the entrepreneur can find the necessary information, easily nearby – all in one app.