The demand for greater efficiency in the public sector, at a time of reductions in spending and increased pressure on services, is commonplace. Yet, the importance of efficiency goes beyond simply money savings. Government output currently makes up roughly 1/5th of gross domestic product (in the U.K. to be specific) and any effort to boost economy-wide productivity must therefore include the public sector and public services.
But improving efficiency does not come by only reducing spending. It also means delivering better outcomes (services) via more effective government and utilizing public money in the smartest way possible.
An answer is needed to a very difficult question:
Are city administrations doing the right things?
In Edmonton, Canada, tech startups are asking their city to back off on services but expand financial support. "I don't think the government has a major role in the support of innovation because innovation is driven by the market not by government agencies," stated Scott Edgar, co-founder of the tech firm Aris MD.
Urban-tech is on the rise with investment totaling north of $75 billion (since 2016). Waze, the navigation and GPS location-based app, provides mapping information in real-time with corresponding updates. There are a multitude of companies operating in fields like real estate analytics, construction tech and "smart" infrastructure (the latter includes Spot Hero, a location-based parking tech app, and Enevo, a Finnish company that creates monitoring systems for urban waste). Within the larger "smart cities sector," the location-based urban tech app, Geme.io, enables the creation of community information on a virtual map by anyone, plugging all users (residents or visitors) into a wealth of real-time information that is not accessible today via search engine queries.
With all these apps springing about, is it time for urban tech to play a larger role in city management?
Many cities are deep in debt, and years of recessions have left their mark. Unrelenting austerity measures have converted many cities, in the West especially, into struggling, outdated entities with inadequate infrastructure and agencies operating way beyond their capacity. Obsolete technology means that the burden of activities (e.g. call volumes regarding bus routes and bus schedules which amount to 40-50% of all calls in North American cities) or solicitations regarding information about recreation and leisure programs are consuming an extraordinary amount of man hours and should be easily delegated to an urban tech location-based app like Geme.io.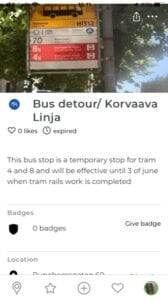 Dozens of prototype smart-city projects are being implemented worldwide, meshing together machine learning, location tracking and facial recognition in multiple, inventive ways to better facilitate commercial and civic systems. Yet, there is a quiet war underway for control of these wired cityscapes  and tech companies are smartly positioned to claim this victory.
Unlike city agencies with barely a penny to spare, tech companies have massive reserves of capital to burn. Uber has openly said it wants to focus on neighborhoods that already have mass transit, introducing services like UberHop that effectively compete with bus systems. Alphabet aims to take things to the next level by owning and operating parts of our cities — essentially becoming bus drivers, plumbers and even occupying higher offices. But can these tech firms run public entities better?
And how about the local residents? They need to be involved in defining their cities and many large cities still have not adapted to this new reality and continue to run their Cities like an army with one hearing per year (just to say they "heard" the people). Cities can be blinded by money and great visions, but must not forget their citizens. Using urban tech location-based apps like Geme.io which encourage citizens and anybody to "do something good" nearby, easy to use, and with the city involved and supporting it can change the urban and political landscape. Instead of competing with citizen initiatives and/or start-ups, local authorities should be playing a more supportive role, by reducing outdated rules and regulations just to name one auspicious area to start.
Private start-up/public sector collaboration is not easy. The two entities are very different and will rightly clash. Public sector information, even with technology, is difficult to find and city marketing directors don't find it overly sexy. But this is what citizens are screaming to get their hands on and it's not easily accessible.
Redefining and redesigning city administrations won't be easy, but it is clearly necessary.