Currently (2018) roughly 2.1 billion (source: WHO) people have gained access to sanitation over the last 25 years. Regarding drinking water, there has also been tremendous progress. Even though safe drinking water has not yet reached everyone on the planet, 91% of the world has access and that number is growing fast.
Success with water shows the power of an aligned, global focus. The value of clean water is easy to communicate, easy to understand and see, and therefore the united effort has been urgent and successful. Public toilets, on the other hand, are not an easy "sale," certainly not as "attractive" as water, which has stalled progress somewhat.
The problem in the Western world is the supply of public toilets are declining and cafes like Starbucks have become a default solution to something governments should be taking care of – to ensure there are enough available public toilets for citizens and tourists to any given city.
A recent article in Finland's public media mentioned that tourists coming to Helsinki complained over the lack of public toilets. Wow! In a city that spends millions upon millions annually on marketing itself, when tourists arrive and search for attraction near me and naturally expect a public toilet at least in their vicinity, are sadly let down.
Toilets however are expensive, require specialized infrastructure and space, and need constant maintenance. The annual maintenance costs depend on the country and can range anywhere from US$15,000 (Denver, Colorado, USA) to £70,000 (Sheffield, UK). The stakes are high for providing toilets for tourist attraction near me.
Unattended bathrooms can also become havens for illegal activity which make them even more desirable to avoid. Self-cleaning toilets have also not proven to be a solution – the mechanisms can get clogged, ultimately costing a city more than it intended to spend on upkeep and maintenance, like an unpleasant incident in Seattle, Washington.
According to the Healthy Hand Washing Survey by Bradley Corp. businesses that have well-maintained restrooms can turn into customer magnets. Roughly 70% of Americans say they have made a conscious effort to select a specific business because it has restrooms that are cleaner and better maintained. That number is even higher for Millennials – 77% of respondents aged 18-34 say they've patronized certain businesses because they have cleaner restrooms.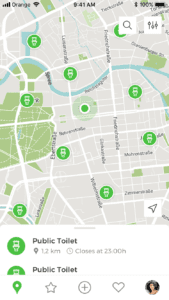 Returning to the Helsinki City problem (which is a problem worldwide), if one googles tourist attraction near me, like public toilets (haha – try it) or try to find public toilets on a Helsinki city website (that's funny), problems abound:
Googling or finding it on the city's webpage – not possible.
Cities do not want public toilets as a tourist attraction near me – not sexy information.
With the Geme.io location-based app, one can do all this and the best part it, the app provides relevant information such as whether the toilet is wheel-chair friendly plus a cool new item in the works – being able to rate the toilets and report unclean ones to the city administration. One would be able to filter all this information and find what is of interest to oneself e.g. toilet -> clean right now -> nearby -> public or private. Plus with all the other stuff – free, charge, wheel-chair access etc.
We proposed to Helsinki City Marketing that they could offer the Geme.io app so businesses and people could offer toilet access and show those on the map in our app. This is an easy solution to a big problem of where "to wee" in capital cities that spend millions on marketing and at the same time close public toilets. Paying businesses to allow access to their toilets, rather than trying and failing to maintain public ones on the street, is such an obvious and brilliant idea. In fact, in Germany they already do this. In Bremen, a city with a population of over half a million people, reckons it saves $1 million per year by using the Nette Toilette program which is present in 210 cities. The Bremen city says that every visit to one of its regular, all-automatic public WCs costs the city almost $6. And they're using this solution as tourist attraction near me.
So instead of worrying whether city governments should be responsible for their own infrastructure, this sidesteps the issue in a fast, practical way.
Another solution would be to give students or retired people a way to make a buck, "attended toilets" if you will. Toilet Grandmas who would ensure a clean toilet and because of the attendance, it would scare away potential illegal activities.
Geme.io app could also be used by the City to show the attended public toilets on our map – not that it's an attraction near me, but if you are in a need, who would not mind paying 50 cents or 1 euro if you are already spending thousands to come to the city to pay for a Toilet Grandma to have a clean toilet?
Since cities and its citizens in Western World don't want to have public toilets at every corner, those same cities must change the top-down approach and use technology for people to not only find public toilets but for businesses to offer toilets and people to find clean toilets whether they are private or public nearby.
With all those great ideas, we are still waiting to get a meeting with Helsinki City Marketing as public toilets apparently are not a "seductive" topic.