Geme.io is a pioneering, "App-Activist" and API provider behind an innovative, mobile experience for folks in and around a university campus – professors, students, administration, local businesses, non-profits, the municipality, etc. The app enables location-based information to be shared, community mapping, crowdsourcing, and the potential to leverage citizen input to reshape how a municipality or university delivers their respective services. Via the creation of Gemies (markers on the app's virtual map), users can follow and receive proximity-alerts filtered to the specific user's pre-determined relevancy, and all thanks to geo-location. Using the
Geme.io for University API
, universities can automate some of the more cumbersome and time-consuming tasks as well as deliver information to their stakeholder base in the most innovative manner possible.
Via the Geme.io Calendar API, universities automate timely updates surrounding campus news, etc. in real time. Through a virtual map, university markers are easily added which are subsequently seen on every user's smartphone. More advanced features allow for the library, for example, to remind a student that their book is overdue or to pick up their registration receipt.
With Geme.io API, different university departments or entities can ascertain intelligent insight surrounding how busy a campus restaurant is for example, sales patterns around certain meal offers, peak use, etc.  Soon Geme.io will be able to provide intelligent insight alerts which in the example of a restaurant would communicate when potential overcrowding occurs or how to identify bottlenecks regarding student flow at peak times.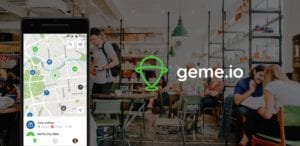 Specific events, such as football games, alumni events or concerts can all be communicated quickly and efficiently via the University API. The beauty of this model is interaction takes place with ever-evolving information surrounding the event being posted ("dropped" in our language) in real-time on the virtual map. Envision the football game marker with distinct user markers providing tips like, "just had the best hot dog here at Gate 7," or, "cool, new game tees on sale now at Gate 11." The engagement between the entity (university or municipality) and its citizen/user base has just gotten a whole lot tighter.
The beauty and fundamental differentiating factor of Geme.io is that the app does not own the data, rather the information provider does. In the case of the university, that's you! Geme.io does not use data to optimize and personalize ads like many social media outlets. This means that universities will be able to use their own data to analyze and track demographics, determine whether certain events are more popular than others, make choices based on "likes" left at campus locations, see trends in usage of various facilities, and get students' perceptions of their surroundings which is all incredibly valuable.
On the student side, the app holds a wealth of benefits:
Access and review photos and commentary from the perspective of dozens of other attendees at a concert; follow an Alumni Weekend event and view images and share; hold and promote fundraisers or other student-related activities.
Become a weekend entrepreneur (selling books from the previous year, paid lessons in a specific field, home restaurant, etc). The possibilities are endless.
Geme.io uses open data for informative Gemies such as bikes for share, wheelchair access, events, etc. and have been collaborating with several public organizations in the Nordics. For information on our partners:
Please contact us
or
Visit us
. Geo-fencing is used to determine how close users are to a given point – one can SMS, email or call the person. Geme.io has been developed for IOS and Android coupled with a Browser version as well.  For app download, click these links:
https://itunes.apple.com/gb/app/geme-io/id1227856490?mt=8
https://play.google.com/store/apps/details?id=io.geme.gemewidget&hl=en
Interested in testing the University API for free?  Contact: Magdalena Pawlowicz,
magdalena@geme.io